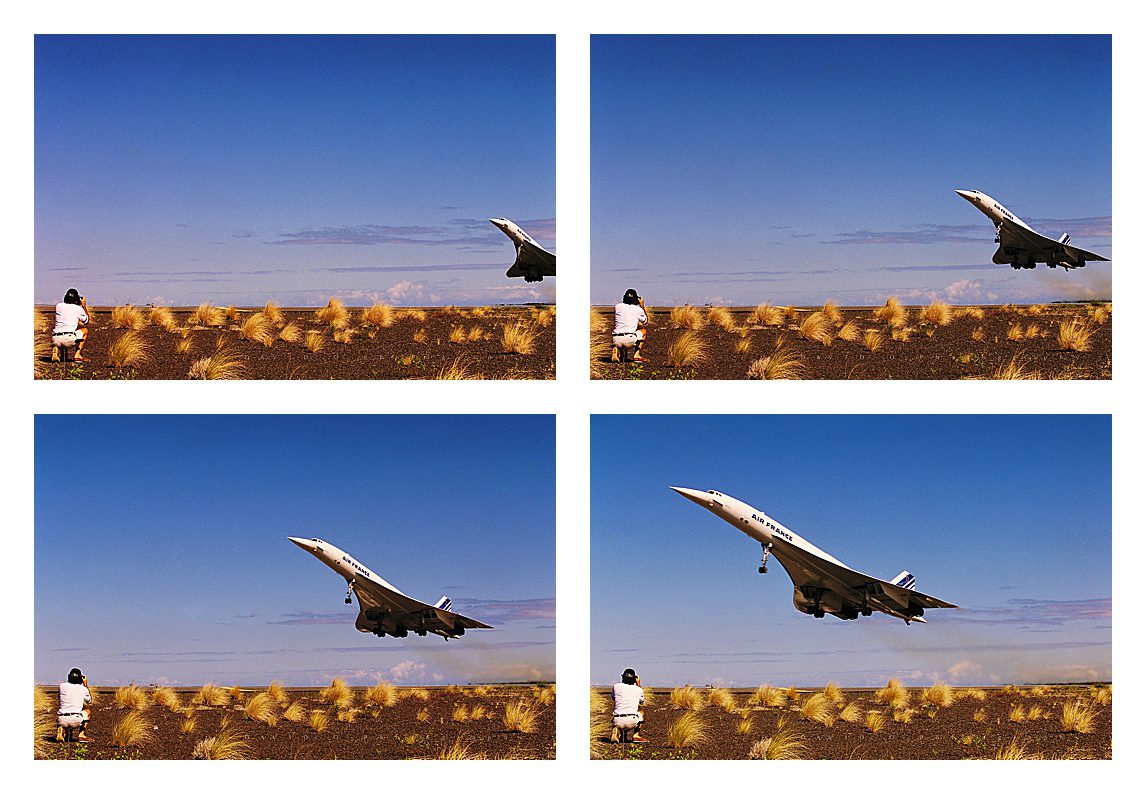 After shooting the group shot of the Concorde passengers, I was invited to jump into an awaiting security van. We raced down the runway at 100 mph. This being the maiden Kona take off attempt and the fact that no one knew exactly where it would lift off from, so the security manager & I guessed, I of course having less than zero knowledge of anything aircraft.
     I quickly mounted my Canon with a wide angle lens and a shutter release on a tripod 10 yards behind me, I loaded it with a roll of Kodak 100 ASA film – 36 exposures. Those under 30 yrs. old ask for a translation.
So I tell my assistant Rocky: "As soon as you see the dirt flying from those Rolls Royce engines hit the remote cable and run to the van and put your ear muffs on, it's going to be loud." I should have worn them.
I positioned myself on a knee.12 feet from the edge of the runway (pre 9/11/2001). Stupid stupid stupid, when I think back on it, but I wanted a great business card and didn't have Photoshop. This is truly extreme photography!
It was incredibly difficult to hold my composure let alone the camera with this screaming metal sculpture hurling at me at 250 miles an hour; the loudest non military machine on the planet. Oh but what a beauty.
The pilot and I had eye to eye contact as he passed by with a thumbs up and a puzzled smile. He later made contact for personal prints. The hand held shots from me were an angle very few ever seen but a tad bit shaky to say the least.
The roll was completely blank of the Concorde, until the last 5 frames of the 36 exposures, all shot in less than 2 seconds with the last one over my head.
When I look back, this goes near the top of my all time greatest experiences behind the camera.
Some times all the planning in the world breaks down to showing up and getting lucky.
Happy Hump Day,
The Baldwins